Shower enclosures come in many different varieties and configurations. Shower doors can be hinged, bifold, or sliding (single or double-door sliding). The type of door you select and that best suits your bathroom simply depends on:
The type of shower you have
Where your shower head is located and access to the plumbing fixtures
How much room you have available
Who uses the shower
In many situations, a sliding shower door is one of the best options to choose, especially if you're working with a small bathroom or need the access to the shower by having two sliding doors.
But there are lots of other reasons installing a sliding shower door makes sense!
1. Sliding shower doors take up less space than hinged doors.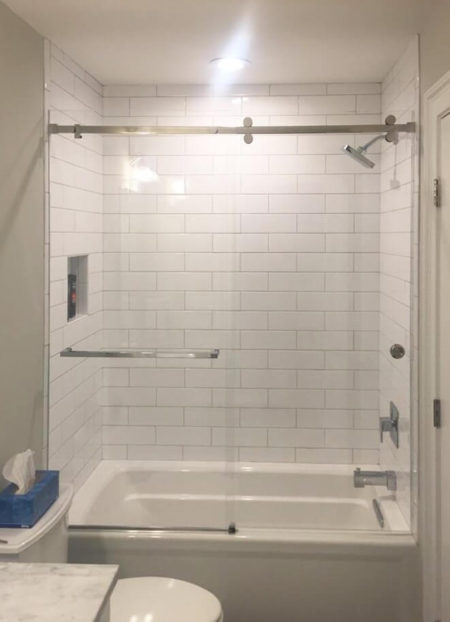 If space is at a premium in your bathroom, installing a sliding shower door could make entry and exit into the shower easier than having to open a hinged door. Since the door doesn't swing in or out, you always know exactly how much space you have.
2. Sliding doors are easier to use.
A sliding shower door can give make reaching the shower-control valves much easier. And whether your sliding doors are on a bathtub or a shower stall, you can slide both doors to the left or to the right, giving you easier access to the shower. Sliding doors can also be easier to operate for the elderly or family members with special needs.
3. Sliding doors are simple for kids.
When children start taking showers, operating a sliding door is easier than a hinged door. Many people think a shower curtain is great for kids, but we hear so many complaints from parents about curtains: Kids never pull the curtain fully closed, and, inevitably, water leaks out. Sliding shower doors close securely into a wall track, creating an overlap—water will escape no more! Besides eliminating adults' annoyance, kids also find it easier to close a sliding door than an unwieldy curtain.
4. Adding a sliding door can modernize your bathroom.
Would you love to make your bathroom over, but don't have the time or budget for a full-scale renovation? A few simple changes can make a world of difference to the look and feel of this space, and they don't have to be expensive.
Switching out an old framed sliding door or a shower curtain in favor of a frameless sliding door is an effective way to modernize an outdated bathroom. Sliding doors now come in a large selection of modern frameless configurations. Frameless glass makes a bathroom look and feel better, as you no longer have old, dated aluminum channels on the perimeter of the shower and around each door.
Glass can be 3/8" or ½" thick and comes in a variety of types—from clear to patterned. You choose whatever matches your style.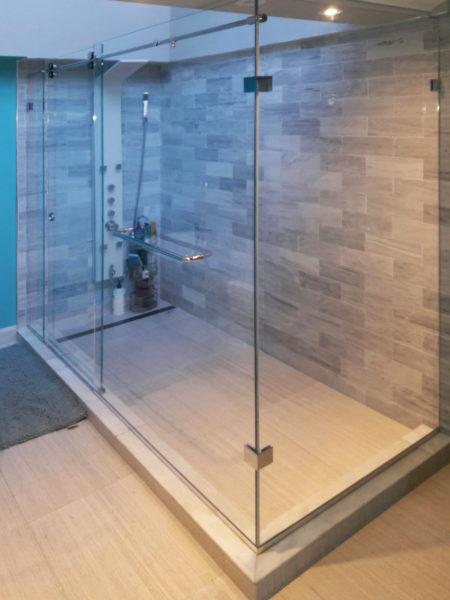 Gone are the old-style bottom tracks that used to fill with soap scum and hair. Now the bottom track can be a flat track, which is easy to clean, or just a small center guide for both doors. This can be very helpful if wheelchair accessibility is a must, as there is no track to roll over.
Most recently, barn-style sliding doors— with their sleek rods that exposed wheels hang from—are very popular.
Combine a new sliding shower door with fresh faucets and a sleek shower head, and you'll be well on your way to a whole new space!
5. Updating your shower door can increase your home's resale value.
It's hard to imagine that a little thing like a shower door can really influence your home's resale value, but it's true. The bathroom is one room in your home that figures heavily in determining its value, so it's important the bathroom looks attractive and modern, and is functional.
In fact, bathroom makeovers are one of the best returns on investment when it comes to upgrading your home, especially when the work is done to a high standard. Simple changes like a beautiful sliding shower door; stylish, modern faucets; and other updated fixtures can transform how your bathroom looks and feels and improve the value of your home in the process.
6. Sliding shower doors are versatile.
Using a sliding shower door doesn't mean you're limited to a particular style of bath or shower. Many new sliding door models are highly versatile and can be adapted to work with a range of bath and shower configurations. The Cambridge Slider can be adapted for use with both full-standing showers and bathtubs. Add a 90-degree accessory kit, and you'll be able to use 90-degree return panels to fit a variety of non-traditional shower shapes as well.
7. Sliding shower doors look great in any space.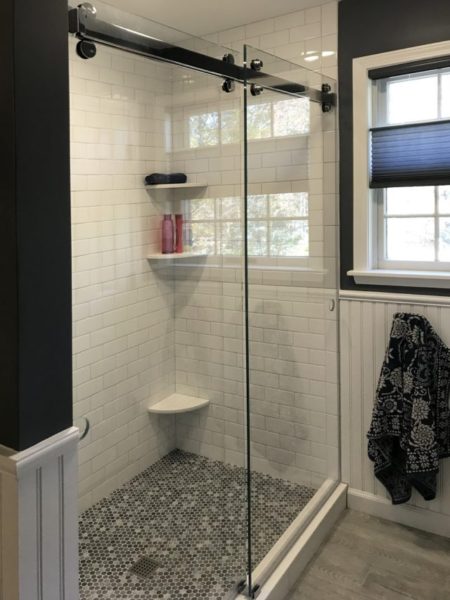 Whether you choose a model with or without a frame, a sliding shower door is a great choice that works well with virtually any décor and fits comfortably in almost any size bathroom. Choose a framed sliding door for a more traditional look, or go frameless to give your bathroom a modern update. Either way, you'll enjoy the benefits of a shower door that's convenient, safe to use, and looks good too!
Want to learn more about sliding shower doors or the Cambridge Slider in particular? Give us a call at 203-336-1888, or visit our showroom. We'd love to hear about whatever project you have in mind!